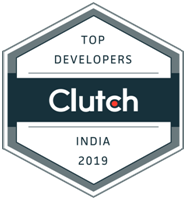 KanhaSoft is a leading custom IT Software and Web/Mobile App Development company based in India with around 45 experienced professionals. Our team is adept in multiple technologies, we've served over 100 clients, and delivered 350+ successful projects.
Through our efforts as a company, we are proud to accept Clutch's prestigious award in naming us a 2019 B2B leading company in India. Multiple categories were featured, and we've excelled on multiple categories on Clutch. Specifically, we're among the best virtual reality companies. Given that AR/VR is a staple of the future, we're excited to be recognized for our efforts with this new technology.
Based in the heart of Washington DC, Clutch is a B2B ratings and reviews company who is committed to connecting businesses to services that help overcome their business hurdles. Clutch offers independent, quantitative analysis on leading B2B services and are recognized as having the most insightful reviews across thousands of different services ranging from IT to advertising and marketing firms. Their rankings are based on a unique methodology that stems from technical capabilities, market presence, and verified client reviews. Our Clutch profile has an averaged ratingof 4.9-stars out of 5-stars! Here's a look at a couple:
"I've never worked with anyone who's this available and solves problems so quickly." – CEO, BeConnected
"They helped make our product better than we could have expected." – Technology Manager, Passion Sports
"They're fairly priced and offer very good service. The product is outstanding and we get great reviews." – CEO, Patient True Talk
Our status on Clutch has bolstered with our reviews, and we are being recognized elsewhere on the Web as well! On Clutch's sister-website The Manifest, we are featured as amongst the top AR companies. The Manifest is a business news and how-to website that offers industry insights and other metrics to help businesses narrow their search for solutions for their business hurdles. To view more of our work, our portfolio is also featured on Visual Objects as amongst the top app development companies. Visual Objects is a portfolio website that allows businesses to visualize a project by showcasing a creative agency's work.
We are beyond excited to receive an award of such distinction by Clutch. Push Interactions would like to thank Clutch, The Manifest, and Visual Objects for their recognition, as well as our amazing clients for their trust and support. With them, our success was not only made possible as a top developer but also across various categories on Clutch – particularly in their leading AR/VR companies category. Going forward, we are ecstatic to maintain this momentum in future years. We will continue to strive to be more than just a development provider – but a consulting partner.